CReW photography is in its infancy.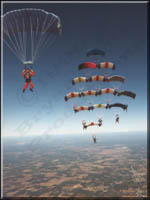 The knowledge gained thus far has come from the cooperation of some of this sports most dedicated supporters. We are all working hard to add to this repository of information. As a result the quality and expertise has excelled at an ever faster pace.
CReW has been viewed as one of skydiving's most dangerous disciplines. This may have been true in the past. With the latest advances in equipment and tried and true techniques, these old beliefs are slowly becoming a thing of the past.
CReW has color and excitement no photographer can deny. The shear brute force of wrestling with your parachute is now a thing of the past. Today the technique exists to almost effortlessly chase your subjects.
Any Drop Zone (DZ) interested in hosting a Mike Lewis CReW seminar please E-Mail Mike.